In email marketing, it is pretty common to send mass emails. Mass emailing is basically sending emails in bulk to a list of potential customers. If you are here, you would know that email marketing is one of the most cost-effective marketing techniques. Useful for every business, old or new, email marketing certainly comes in handy when you are building relationships and promoting your business at the same time.
Although it seems simple, there are some common mistakes that the majority of businesses make while sending mass emails. Here are a few do's and don'ts of sending mass emails that will help you avoid these mistakes and have a successful email marketing campaign every single time.
A lot of people make this mistake. Just because you are sending a mass email does not mean you have to keep it generic. Email marketing software and tools give you the option to personalise your email even if you are sending them in bulk. Use this feature in your favour and make sure you are sending personalised emails with information relevant to the receiver.
Personalisation makes the receiver feel an instant connection and they consider reading the personalised email over generic emails that are evidently sent in bulk to a larger audience.
Do Check Your Spam Score Before Sending
Email writing and marketing are not just about writing a crisp, informative email and sending it. You need to check the spam score so that your email lands in the inbox and not in the spam folder of the receiver. Again, there are software and tools that can help you analyse your spam score. Along with that, it is recommended that you conduct email tests by sending them to a few people and see if the email is landing in their inboxes or not.
Give Them an Option to Unsubscribe
Although you may think that giving someone an option to leave you will affect your business, that is actually not true. You can't force someone to invest in the services you offer. When you let people go by giving them the option to unsubscribe, what you are left with is an email list of people who are genuinely interested in your emails and services. Converting this traffic into leads is easier. Always remember lead generation is what matters more for your business than the traffic.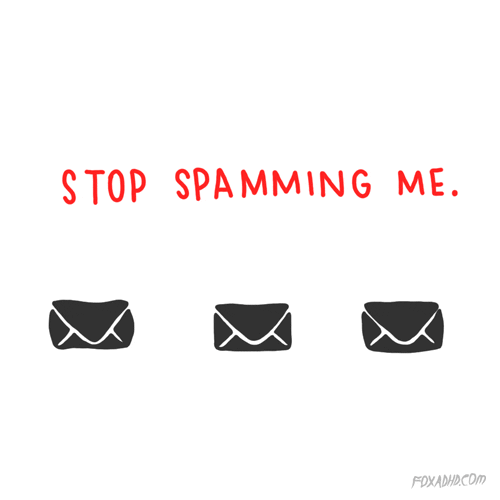 Moreover, according to the CAN-SPAM Act, it is important to give the receiver an option to unsubscribe otherwise it can lead to legal repercussions and affect your business.
Send a Specific Number of Emails in a Minute
Okay, even if you are sending mass emails you should know that you are supposed to send a limited number of emails in a minute. Every email marketing tool suggests a specific number of emails that should be sent in a minute, respect that. Because otherwise your email can be flagged as spam.
The number is not very small so even if you are sending emails to a restricted number in a minute, it is a lot more than the number you can usually meet when you are sending emails individually.
Gmail is one of the most popular and commonly used emailing platforms or tools on the internet but you shouldn't be using it when you are using email for marketing purposes.
There are several reasons why you shouldn't use Gmail for mass emails. First and foremost is that you can't track and analyse how the campaign is working for you. Gmail does not provide you the ability to check how many people opened your email and if it was a success or not.
There are better email marketing tools available online at very reasonable prices that allow you to customise the emails, personalise them even when you are sending bulk emails, and analyse how it is working for you.
Don't Write Lengthy Email
No matter how much informative and pleasing your email is, nobody is going to read a lengthy email. It's the last thing you would want to do while sending mass emails. The lengthier your email, the fewer people will read it till the end and take action. 
Write an email that is short, to the point, engaging, and crisp. It should clearly mention the purpose of sending the email, the benefit for the receiver, and what they need to do. That's it. No fluff.
Also Read: https://blog.hustlepostacademy.com/side-hustles/how-to-write-an-effective-email/
Don't Use a Clickbait Subject line
Using clickbait subject line is a big no-no. you may trick the receiver into clicking on your email but you will probably lose a potential client so do not make this mistake at all.
Write a subject line that is relevant to the email body and subtly persuasive so that people consider opening your email to read more about it. One of the best ways to do this is to write a subject line around a pain point or information that your potential client can relate to and your business can solve.
Don't Use Images and Graphics
It is okay to use images and graphics but using more of it can land your email in promotions. So avoid using excess images and graphics in your email. Your main motive as an email marketer or a business owner is to land directly in the inbox of your potential clients so that they notice it and consider opening it.
People don't consider reading promotional emails and the reason behind that is, that they know you are trying to promote your business so they will have to invest, which they don't find profitable. Sell them something by keeping them in the limelight and they won't mind investing their resources in you.
Email marketing is one of the most effective marketing techniques but you need to understand that it is highly complicated as well. There is a lot that needs to be taken care of in order to make sure that the email you have sent delivers the right message that will benefit both your potential customers and your business. If you are new to email marketing, it is recommended that you take a course specifically designed for email marketing so that you can master the art of writing effective emails and take advantage of the technique.
Hustlepost Academy has a course on email marketing services that will introduce you to everything from the basics of email marketing and help you become a successful email marketing expert.