You must have confused these two positions. A lot of people still believe that social media management and social media marketing are one and the same thing. And it is completely understandable you know, the responsibilities of both the roles are kind of overlapping (but still a lot different), and the awareness regarding how social media works, in general, is limited.
But here we are, learning, exploring, and sharing information so that you can pick the right career option for yourself and start freelancing.
What Is Social Media Management?
Social media management, as the name suggests, is basically managing all the social media accounts for your client.
What Does Management Exactly Mean in Social Media?
Posting content. 
As a social media manager, you will be responsible for posting content on social media platforms frequently and on time in such a way that the engagement (likes and views) and the audience of your client grow consistently if not enormously.
Not just that, responding to texts and comments, coming up with new posts and story ideas, and repurposing content on other social media platforms might be your responsibility as well.
Does That Mean as a Social Media Manager I Will Just Be Uploading Images and Videos on Instagram?
You wish, don't you? No, as a social media manager you will be responsible for a lot of things, primarily related to the technicalities of social media.
What you need to understand, first of all, is that social media is not restricted to Instagram. Sure, it is one of the most sought-after platforms but it shouldn't be your only focus. Facebook, Twitter, LinkedIn, and Pinterest also play a significant role in social media management, and which platform should be considered the primary focus will depend on the industry and business of your client.
Your responsibilities as a social media manager will include but are not limited to consistently posting content, analysing the response of audience and engagement, trying tactics that increase the said engagement, and building a better audience organically.
As a freelance social media manager, your client may expect that you will write captions, use proper hashtags and create graphics for their social media accounts. This is not particularly something a social media manager does but these are some of the tasks that you may not be able to say no to.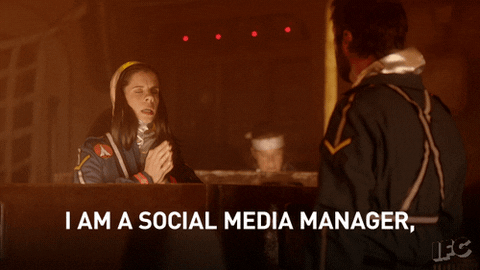 What Is Social Media Marketing?
Social media marketing is something that is usually done for commercial reasons. You will not see an individual getting involved in social media marketing unless they have something to offer. It can be a product, service, or probably a course. And their motive is to lead their audience to this other platform where they are offering services so that the audience can be converted into their clients. Money-making strategy!
Is Social Media Marketing Important?
In this time and era, and the future, yes. Social media marketing is extremely important if you are running an online business or if you need an audience, traffic, leads, engagement, customers, and money. If you are running your business all by yourself, for yourself, and have nothing to do with the internet presence and customers, you will probably survive without social media marketing. Exaggerated? Well, maybe. Overexaggerated? Trust me, not.
Does It Make Any Difference from Social Media Management?
Yes, a significant difference. Management is basically posting consistently, whereas marketing is about coming up with content that will not only help you grow your social media presence but will even lead your audience to your business and convert it into your customers. You will be marketing your business on social media and not just managing your business accounts.
What Am I Supposed to do as a Social Media Marketer?
As a social media marketer, you will create social media strategy for your client's business. Figuring what type of content to post, CTAs that will lead the traffic to the website, creating graphics, and writing copy and content that needs to be published, everything will be your responsibility. Of course, you don't have to do everything all by yourself, you can hire freelancers or start with a team but these will be your responsibilities.
After that, you will be responsible for optimising the content and analysing how the social media posts are doing. Based on this you will be required to make changes in your marketing strategies so that your client makes the most profit.
It all sounds a little complicated and scary but trust me it is very easy, especially if you are already familiar with the basics of digital marketing. If you are not, you can take out some time and learn the basics of digital marketing and you will be sorted.
Which Is Better, Social Media Marketing or Social Media Management?
Social media marketing and social media management go hand in hand. If you are wondering which is better for your business, I would say social media marketing. And if you are asking as an aspiring freelancer or side hustler, I would suggest starting with social media management and then smoothly sliding into social media marketing.
Because we all have been posting on social media for ourselves, we are somewhat familiar with the management responsibilities. So it won't be difficult for you even if you are an absolute beginner.
After some time, you should consider sliding into social media marketing because it is a more valuable career option. Your earning potential will significantly increase and with time you will realise that marketing is not very complicated. Furthermore, you get to learn and explore a lot as well.
Starting your side hustle is extremely important and if you are someone who loves spending time surfing through the social media content, working in this field will feel like nothing less than a blessing. It's fun, entertaining, and trending. But of course, given the trend, it is highly competitive as well. So if you wish to start and stand out as a freelance social media manager, you will need to be prepared for the role and equipped with skills and knowledge that will probably make you the best option for your client. For that, you should consider pursuing this course called how to start and grow your side hustle.
The course covers everything, right from how to use social media productively to make money and what services you can offer to specific courses on how to manage and grow Instagram, LinkedIn, and other social media platforms. By the end of this course, you will be equipped with everything you need to not only become a social media manager or a social media marketer but start your own business that will make six figures income within a few months.