Thinking of starting a side hustle while working or studying full time? Stressful, isn't it? What if I tell you that it's just the idea of starting a side hustle that's scary, not the process? Sounds hard to believe, but it is true.
Starting a side hustle is not as difficult as it seems when the idea of managing a side hustle alongside your full-time job crosses your mind. All it takes is a perfect blend of motivation, determination, and time management.
I know it's easier said than done, so here I am sharing a few tips with you so that it can become easy to say AND do for you.
Why Is It Easier to Succeed With Side Hustles Than You Might Think?
People find starting side hustles difficult because they believe they don't have enough time to invest in other work. I agree, given their schedule, it is hard to take out time. But it is because of their schedule.
If you are working for 9 hours a day and sleeping for 8 hours a day, deducting 4 hours for activities like eating, traveling to and from work, and working out, you are still left with 3 hours. 3 hours a day is more than enough for planning, building, starting, and growing a side hustle.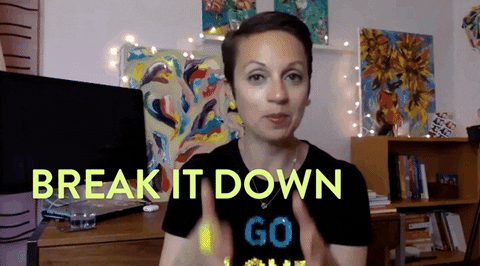 You are not able to start a side hustle because you are considering it a task. People are able to do it because they turn their passion into a side hustle and it is relatively easier to take out time for something you are passionate about than a side hustle that you are probably considering starting just to get another source of income.
Consider starting a side hustle that you are really passionate about, something you always wanted to do, and something that you will never get tired of, and see how easy it gets for you to start and grow a side hustle.
Tips to Have a Successful Side Hustle While Working Full Time
Here are a few tips that will help you take out some time out of your day to work on your side hustle without sabotaging your work-life balance.
First and foremost has to be that you don't need to prioritize your side hustle or work over your mental peace and health. It is easy to say that it is not difficult to take out 2-3 hours from your already packed day but it may not be the case for you. So, make sure you consider your health and lifestyle before diving into this "multiple sources of income" trend.
Waking up earlier than you usually do can help. We have been told all our lives how waking up early (and leaving our phones) can sort everything out. Trust me, it can. Start waking up around 5 or 6 in the morning and you will have plenty of time to focus on your side hustle. Moreover, this will also help you stay at peace and start your day on positive terms which will enhance your performance at work as well.
Procrastination is your biggest enemy. Even if you are not looking forward to starting a side hustle, procrastination is one of the most problematic habits that I guess we all deal with. Try your best to avoid procrastinating. You are only going to regret sleeping again after the alarm went off or watching Netflix for a little longer or surfing through the shopping apps with no intention to buy anything. Leave everything that's unproductive and invest this time in learning, growing, experimenting, and exploring things that matter.
Investing your time in learning is better than trying with least to no knowledge about something. Invest your time in understanding how people have been doing what you intend to do and what made them successful. Learn everything that you will need to start and grow your side hustle and don't feel like you are wasting your time just because you are not starting your side hustle. Learning is as important as starting, in fact, it is the first step to starting anything that you want to be a success.
Use your weekends to work on your side hustle. Weekends are to chill, sleep, and relax but it won't hurt to take out some time to work on your side hustle. Sleep till late, wake up, work on your side hustle, and then go out with your friends for whatever plans you have. This is how you can maintain a "side hustle-life balance" on weekends.
Reduce the amount of time you spend on activities that are unproductive and can be avoided. Binge-watching Netflix, mindlessly scrolling through social media, going out with someone even though you don't feel like it, and sticking to reading something that you are not finding interesting anymore are some of the examples of activities that can be avoided and the time can be invested in working on your side hustle.
Learning effective time management can help you manage your time efficiently. When you are able to manage your time, you can easily take out time for your side hustle and be productive for most of your day while maintaining your personal life, balance, and boundaries. You can use time management tools and even learn time management through courses available online.
People have been successfully managing to work on their primary source of income and side hustle while maintaining the work-life balance. If you too are determined to build your own side hustle you should consider pursuing a program that can not only help you find your side hustle but also guide you through the steps to start and make it successful in no time. Hustlepost Academy has a course on how to start and grow a side hustle that can offer you a blueprint of the journey that you need to follow at your own pace to get where you want to be.