Working as a solopreneur sounds intriguing initially but it hits really hard when you realise how hectic it can get. You will be working on everything from the product or service that you will be offering to building an online presence, creating content, marketing your business, and reaching out to an audience to generate traffic and leads. Even if you think you can handle all this in the initial stages when your business is just starting, let us tell you why that may not be the right decision for your business. If this is not enough to know why VA should be your first hire as a solopreneur, let us give you a detailed article. This will help you understand why you shouldn't be working alone. 
We highly recommend hiring a virtual assistant as soon as you decide to start your own business. And here are 5 reasons why VA should be your first hire if you are a solopreneur or freelancer planning to start your own business.
You will Work More and Better on Your Business
When you decide to start a business it's not like the idea of starting a business crosses your mind one day and you start working on it the very next day. An idea crosses your mind, you plan around it, procrastinate, decide to take action, work a little, leave, come back to work on it again, fail or get stuck somewhere, leave again, and then after some time, you try to pick up on the idea once again.
The point is, you don't work on your business because either you are not completely invested in it or you don't know how to do something within that plan.
But when you hire a virtual assistant it's like having two minds working on one project without splitting the profit among partners. You will be investing in a virtual assistant for your business who will take care of the basic hurdles that make you procrastinate and focus less on your business.
When a virtual assistant will be helping you out with time management, you will work more and better on your business.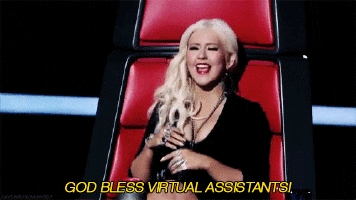 You Earn More When You Spend Better
A lot of people don't consider hiring a virtual assistant, or anyone for that matter when they are just starting their business because they believe this is an unnecessary expenditure. This is the biggest myth and mistake that most solopreneurs and aspiring business owners make.
Hiring someone is equivalent to investing, always keep this in mind. And this is one of the reasons why you should hire someone good and not cheap.
A virtual assistant can help you with your business and work-life which will definitely help in the growth of your business. A good virtual assistant can significantly increase your profit and earning potential.
A Virtual Assistant Can Help You More Than You Think
You may think a virtual assistant will just manage your calendar and email and create a schedule for you, but they can do much more than that. A VA should be your first hire because they can not only help you prioritise your work but also help you with your business. Depending on what exactly your business is about a virtual assistant can help you create content, improve your online presence, manage your social media, write emails for you, and build relationships with your potential clients.
There is a lot that needs to be taken care of even when you are in the very early stages of starting your business. A virtual assistant can help you with that work and stress.
Delegation Can Make Work and Life Easier
Starting a business is not as easy as people make it sound. Even if you are starting an online business, don't assume that it is going to be less hectic or stressful than an offline business. You will be putting as much effort and time, if not more.
They say starting a business is better than working 9 to 5 for someone else but they don't tell you that to reach that point you will be working all day and night, missing events and occasions, and probably sacrifice your leisure time completely. Well, you don't have to but if you are considering working all by yourself, this is going to happen.
This is why it is said that delegating work is important. When you delegate your work, you delegate your stress as well, and this way you get more hands working on the same project, more minds, creative mindsets, and thus better ideas as well.
Finally, something that everyone knows virtual assistants help with but still don't consider important. virtual assistants can help you save so much time. And no, you can't schedule everything for yourself and be a virtual assistant for yourself.
You can do that, of course, but that is not going to be as effective as a virtual assistant managing the time for you will be. They know how to do it better than you because that's their job and you will have to learn a lot to master the art of managing time.
If you are skeptical about this, you should consider hiring a virtual assistant once and experience the difference for yourself.
Becoming a solopreneur, if you have a valuable service or product to sell, can be one of the most promising career decisions. And in order to be actually good at managing this business right from the start, taking help from experienced people will be a wise choice. This is why a VA should be your first hire. They can help you with almost anything you want.
However, having basic knowledge about starting and growing a business appropriately is required. So, if you are an aspiring solopreneur, we advise you to invest in this course offered by Hustlepost Academy which teaches you how to start and grow your business online. And it covers everything from the very basics of finding a sellable service to marketing your business online and generating income in six figures.
If you are an aspiring virtual assistant, you should also consider checking this course out. It will introduce you to the role and responsibilities of a virtual assistant and equip you with the skill set required to excel in this field.