Starting a podcast is a relatively difficult decision to make, especially when compared to starting a YouTube channel, blog, or online business. 
The reason is that people presume the audience listening to podcasts is limited and out of that limited audience someone stumbling upon a channel of, well, an unknown little celebrity is highly unlikely.
While the concern of all you aspiring podcasters (we are assuming that you are one of them) is genuine, the reality is very different from what you are presuming.
Are you a podcast listener yourself? 
Do you only consume content created by people you personally know? Have you never listened to any episode because you were interested in that genre or title of the episode and not because of the speaker? If you can, why won't other people?
We hope we have cleared your doubts about your abilities, to begin with. And now we are going to address your podcast related frequently asked questions.
Podcasting is the process of creating and uploading audio content on podcasting platforms, such as Spotify so that people can listen to it. The only difference between podcasting and YouTubing is that it is an audio recording. You will be sharing your content without showing your face. One of the reasons why it is one of the best side hustles for introverted people.
Starting a podcast is not very difficult for someone who already has an idea of what they wish to speak about. But if you are clueless about podcasting you will need to sit down and plan everything. Here's the step-by-step process of starting a podcast:
Start with deciding the niche of your podcast. What is the one niche that you are most intrigued about and can talk about for as long as you can? It can be anything from fashion to lifestyle, productivity, studying, skincare, or anything else. Just make sure you pick one or a maximum of two niches that are closely related to each other.

After selecting the niche, you need to pick a few titles you will cover in your episodes. Pick at least 10 titles and research the information you will cover in each episode. Write a script so that when you start recording, you can smoothly do that without taking a lot of breaks to think about what to say next.

It's time to record. Record and edit your recording.

Now that you have already prepared some content, you won't feel the pressure to come up with new ideas and record them as soon as possible. You have 10 episodes ready to go and you can choose to upload them once or twice a week.

Set up an account on the platform of your choice and upload the audio. Write a description and title, and make sure everything is SEO optimised.

Share the link to your episode on different social media platforms and ask your friends and family to listen and share for better reach.
There you go, you have started your podcast. Congratulations!
How Can I Make Money Podcasting?
There are a number of ways in which you can make money from a podcast.
The podcasting platforms pay you for every time someone listens to your episode or downloads it. The payment value differs from platform to platform and may require you to have a certain number of subscribers. This payment option is ideal for podcasters who have a significant number of subscribers and listeners.

You can get sponsors for your podcasts. There are brands and industries that pay podcasters for advertising their brands and products in their episodes and for that they pay a certain amount of money. You can reach out to the brands that are relevant to your niche and ask if they are interested in sponsoring your podcast.

Affiliate marketing is not restricted to a single platform. You can choose to market products and brands on your podcast and share a link or code which your listeners can use. For every listener who buys the product using your unique code, you will get a commission.

You can start your own business on the side and tell your audience about it through your podcast.

If you have a pleasing voice, you can record podcasts for other podcasters and get paid for the same. There are brands who may be interested in starting a podcast, reach out to them and suggest that you can be their voice. You will be managing everything related to their podcast channel and can get a decent income for the same.
How to Get an Audience for my Podcast?
Increasing listeners can be a little tricky but it is very much possible. All you will have to do is market your podcast.
Share the link to your podcast on all social media platforms.

Take care of the SEO on the podcast.

Start a blog where you can share everything you covered in the podcast episodes in writing. This way you can reach out to a new audience and drive them to your podcast by adding the link to the episodes you shall be writing about.

Invite guests on your podcast so that you can reach out to their audience as well.
You may not see results overnight so staying patient and consistent will help a lot in growing your podcast and getting an audience.
How to Record a Podcast Audio?
To record your podcast you will need a disturbance-free environment and a microphone. That is all. And even with microphones, you don't have to invest in an extremely fancy mic available online. You can start with a simple USB mic as well. However, what kind of equipment you will require depends on the type of podcast you intend to start. If you are the only speaker then a USB mic will work for you but if you are going to have guests you may need to invest in two microphones. You will also need editing and recording software to make your life as a podcaster easy.
That is it. For your how to record a podcast question, you just have to invest in the software and equipment, sit in an environment that is favourable for recording audio, and start recording.
Is Starting a Podcast Expensive?
No, starting a podcast is not expensive at all. All you need is a microphone and software with which you can edit and record your podcasts. That is all you need to have as a beginner. The equipment is not at all expensive. And the outcome will be as good as podcasts recorded with shit-expensive equipment. The only thing you will have to take care of is your environment. The lesser disturbance, the better the quality of your podcast will be.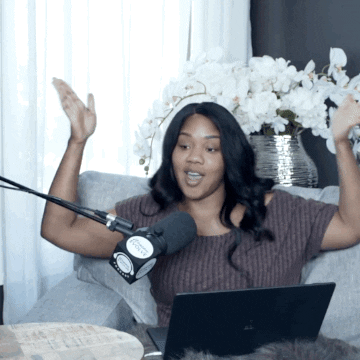 Do I Need to be Famous to Start a Podcast?
No, you don't have to be famous. Anyone with an opinion or information can start a podcast. This question arises because people believe that only famous people get listeners and subscribers but it has been already proven that this is just a presumption and nothing else. People as common as you and me are able to start a podcast and get subscribers eventually. Sure, it takes more time for us than the already famous people to build a community but more time does not mean impossible, right? Start your podcast if that is something you are passionate about and your content will attract an audience for you.
Is It Possible to Make Money Podcasting?
Podcasting is fun to share thoughts and opinions with the public and build a community. 
If you think you are comfortable with speaking your mind and can entertain or inform people on the internet looking for content in the niche you are intrigued about, then this is your sign to start your own podcast. 
To be successful at podcasting you will need to start with having a mindset that is prepared for success. 
And for that, we have a course for you. Our course  Successful Podcasters' Program teaches you everything about podcasting and growing your podcast organically so that you can make money through it.
It's priced at just 999/- so you much consider joining today! 🙂