One person who is responsible for our fear of not trying something new, who pulls us down whenever we decide to do something we find interesting is, ironically, we ourselves. Blame society, your parents, or childhood trauma but you will eventually have to realise that all this turned you against your own self, and today, if someone is actually coming in your way, it is you because of your lack of self confidence.
It's time to change it. It's time to start believing in yourself and boost your self-confidence so that you can achieve your goals without hesitating and giving yourself that negative pep talk.
How to Believe in Yourself?
Believing in yourself primarily requires a major mindset shift. From focusing on your weaknesses and flaws to shifting the focus to everything you have achieved, your strengths, the life lessons you have learned in the process, and how far you have come in your journey all by yourself.
You know your story better than anyone else. You know how much you have struggled and how amazingly you have handled things and yourself in difficult situations. Recognising this and appreciating yourself for what you have done so far is one step closer to believing in yourself.
After appreciating yourself for everything, it's time to focus on your strengths. When you know you are good at something, you will believe that you can do that again, and you can be even better the next time. This is the belief that you need to succeed in every area of your life.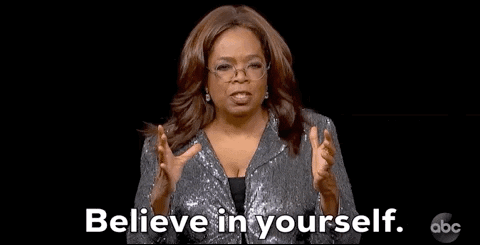 How to Boost Your Self-Confidence?
When you start believing in yourself it will automatically boost your self confidence. However, starting believing in oneself after years of negative pep talks and self doubts is not going to be a quick and easy task, it will require you to invest a significant amount of your time in yourself. And to invest your time in yourself the right way, here are a few things that you can do to make the process of believing in yourself and boosting your self confidence relatively easy and quick:
Start with talking to yourself. A lot of times the reason why we don't believe in ourselves is that we never really try to talk to ourselves. 
It may sound a little weird because you can always hear your thoughts. But when you talk to yourself you acknowledge your presence as another person. And as bad as it may sound, we are nice to people more than ourselves so sometimes treating ourselves as "people" becomes necessary. 
Talk to yourself, ask what is going on with you and answer the question honestly. Let the emotions and thoughts flow out and you will realise how much you have been suffering internally. There are so many things that hurt us, that we never let out, not even to ourselves. Similarly, there are situations and incidents where you felt proud of yourself but you never said that out loud. This is your time to say everything out loud to yourself.
Write Down Your Strengths and Weaknesses
Sit in silence with a notebook and start writing your strengths and weaknesses. We all have our strengths and weaknesses, we just have to recognise them. 
Maybe you are an amazing writer, or you can type really fast, you are a good listener, you can make friends easily, or you know how to spend time alone, you learn things easily, or you are a good judge of character, you can draw well, you have good communication skills, or you are always up to date with the trends. 
Anything can be your strength, sit down and start writing.
Once you are done writing your strengths, move to the weaknesses section. Remember, you don't have to be hard on yourself and nobody in this world is perfect. Write down the weaknesses that you believe hinder your success and you need to work on. For instance, you don't know how to control your emotions, you procrastinate a lot, you get distracted and quit easily, or you consider others' opinions more important than yours.
Recognise the Negative Self Talk
You will recognise this while writing your weakness list more than at any time else. When you, instead of focusing on your weaknesses, start pointing out things that are either not true or not under your control you will realise you have started getting negative thoughts about yourself all over again. 
Negative thoughts may look something like this, "I am not perfect, I am not beautiful, I am not good at anything, I don't know anything, I have no talent, I am always making mistakes, and so on and so forth."
Recognise this negative self talk and cut it out as soon as possible. As already mentioned, nobody is perfect. In fact, people you consider perfect are not confident with themselves. Can you imagine that? 
You should, because you have no idea how perfect you are in someone else's eyes and yet here you are pulling yourself down.
It is so easy to blame oneself for mistakes and shortcomings but have you ever just appreciated yourself for your wins without counting on your flaws? When we achieve something, the appreciation or attention timespan is so short, that we almost immediately jump on "what next".
You completed your schooling, immediately started preparing for the entrance exam, cracked it, immediately started looking for colleges, completed college, and dived into an internship, you are earning around, say, INR 40,000 now but you are just waiting to get an increment, and when you will get that increment you will probably want something else, something more. 
Did you, even once, just appreciated yourself for doing what you have done so far?
One failure, and it takes days, weeks, and even months for you to leave the bed and start working on it again. And it doesn't stop there, that failure is used as an example for years. But no achievement receives that much attention, why?
Appreciate every small and big win, celebrate them, and use them as an example, because if you were able to do something in the past, you are likely to do something even bigger in the future.
Work on What You Consider Your Flaws
You can boost your confidence by reducing your flaws, have you ever considered that? Your weaknesses can be converted into strengths if you start working on them.
Start waking up early, sign up for online courses, learn, read, educate yourself, work out, meditate, reach out to people you think can help you, take help from Google and YouTube and start working on whatever you think is the reason why you don't feel confident.
Literally, everything is available online, if still you choose to not work on something that bothers you and stress yourself with it, then nobody can help you. It's you who has to work, we are here to just guide you in the right direction.
Focus on the Positive Things in Life
It is very easy to fall into the pit of negative thinking. Even easier to let the negative things around you take control of your life but it takes significant effort to focus on the positive things.
Interestingly, in our lives, negative and positive things happen simultaneously but we, for some reason, give more importance to the negative things. 
If we start focusing on the positive instead, there are chances that while focusing on the positive we will also start appreciating ourselves more. Being positive certainly attracts positivity and that positivity can help you be more confident in yourself.
This is something that cannot be explained but felt, experience it yourself. For around 3 months, focus on positive things around you. Don't let the negativity affect you.
Believing in yourself boosts self confidence and self confidence helps you believe in yourself more strongly. Both of these things go hand in hand. But you can't deny the fact that when you believe in yourself you are more confident in yourself, and that is literally what self confidence is. So, start believing in yourself, for real, and see how it boosts your confidence as well.
Read more: How to Have a Work Life Balance With Side Hustles
Be Comfortable in What You Are
To boost self confidence, you need to accept yourself the way you are and be comfortable in that. You are amazing the way you are and if you don't feel good about something, you can work on it and make it better, if you can't change something then there is no better option than accepting and loving yourself regardless of whatever it is that bothers you.
However, being comfortable should not mean you enter your comfort zone and stop working on yourself. Betterment is always required, even when you feel like you are the perfect person, you will still need to keep working to be even better. That's the purpose of everyone's life. To be a better version of themselves, and you should always keep this in mind.
Believing in yourself and boosting your self confidence are just two steps but these two steps can help you achieve every goal you have. While boosting your self confidence, if you think you need to start learning something to be better and have skills that will help you in the process then you should consider taking our course on how to start and grow your side hustle.
The course teaches you 12 monetizable skills and along with that introduces you to the strategies of starting a side hustle and making it a success. It is a one stop information hub for everything you need to start your side hustle and boost your self confidence.